The growing number of symptomatic patients corresponds to the long-term establishment of the tiger mosquito on French territory.
Health authorities are taking the situation extremely seriously. Since the start of 2022, some 26 cases of autochthonous dengue fever have been reported in mainland France. A higher level than in previous years according to the authorities, who insist on the need to protect against mosquito bites.
By "indigenous" dengue, we must understand cases contracted by people who have not traveled to the usual area where the virus circulates, overseas or abroad, in the 15 days preceding the onset of symptoms. They have been identified in the Provence-Alpes-Côte d'Azur and Occitanie regions, said the Directorate General of Health (DGS).
Mild disease
According to a sheet from Public Health France devoted to the subject, this infectious disease is transmitted from person to person through the bite of a tiger mosquito (Aedes albopictus) infected. The virus regularly circulates in the French departments of the Antilles, as well as in the French islands of the Pacific and the Indian Ocean.
There are two types of dengue fever. The classic form that manifests as a flu-like state in the patient within three to 14 days after the mosquito bite. In addition to a high fever, it is accompanied by "chills, headaches, retro-orbital pain, nausea, vomiting, joint and muscle pain." Its evolution is favorable after several days and its treatment is symptomatic, in particular pain and fever.
For 1 to 5% of symptomatic cases, on the other hand, there may be a severe form, also called severe dengue fever, characterized by an increase in vascular permeability which can cause hemorrhagic forms that can be life-threatening. According to the WHO, the death rate from severe dengue fever, if treated in time, is less than 1%.
The tiger mosquito takes hold
In 2020, the health authorities had identified two cases of autochthonous dengue and in 2021, 13 cases. The figures for 2022, still clearly increasing, illustrate the long-term establishment in 67 French departments of the Aedes albopictus mosquito or tiger mosquito.
According to the Vigilance moustiques site, more and more departments in northern France and the Paris basin are concerned thanks to a milder climate, and a dozen of them, currently on orange vigilance, could be promoted in the top category.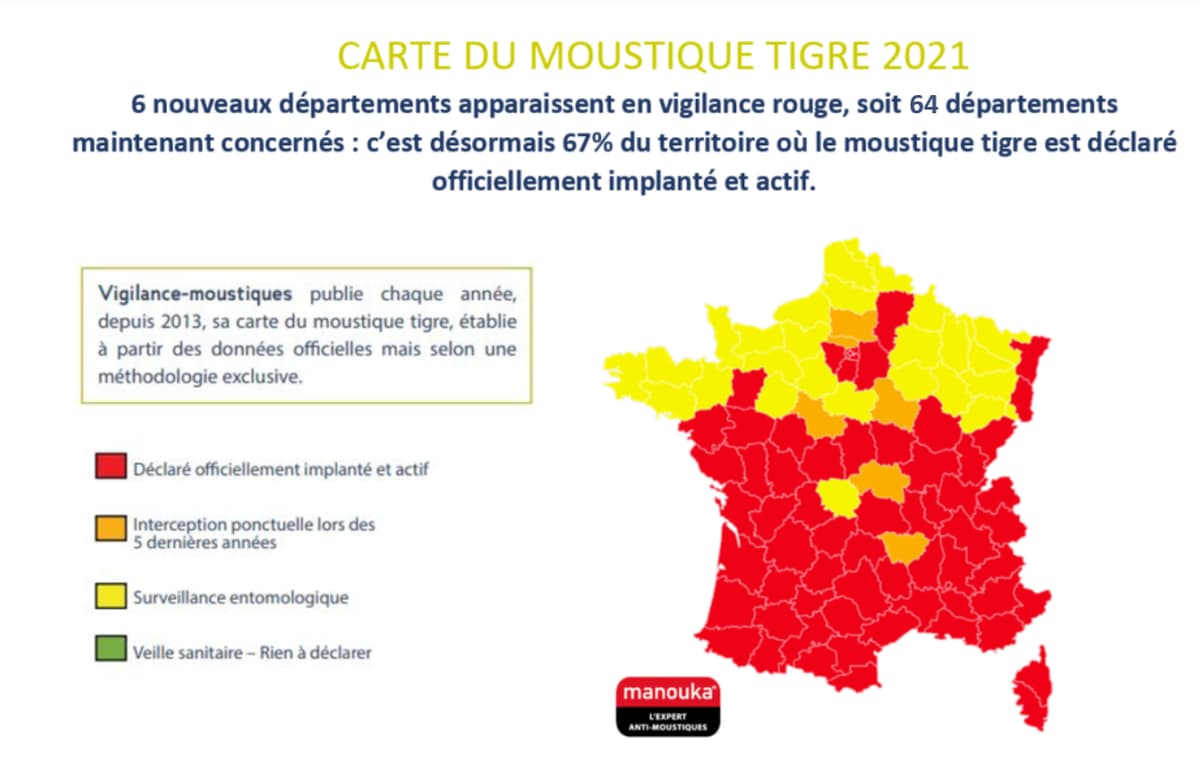 According to the Ministry of Health, to protect against dengue, it is logically necessary to protect yourself from the tiger mosquito. In particular, he recalls the importance of storing anything that may contain water, sheltering from the rain, wearing loose-fitting and covering clothing, using a skin repellent, or even, if necessary, mosquito nets. on openings (doors and windows).
In case of doubts about a spotted insect, it is advisable to contribute to the monitoring of its establishment by reporting it on the official portal of the health authorities at the following address: signalement-moustique.anses.fr.